When you open the box for SteelSeries Arctis Pro Wireless – the wireless version of the company's Arctis Pro, with some differences we return to below – you are struck by how well thought out everything is. All devices, extra batteries, all cables. And then you think a bit about how to connect everything in your PC or Playstation 4 (which are the two formats supported by the handset, wireless – the wire you can run it with anything that has a 3.5 "output). We pits them against the Logitech Astro A50 and gives you the answer to whether they may be the best choice, wireless right now for PS4 and PC.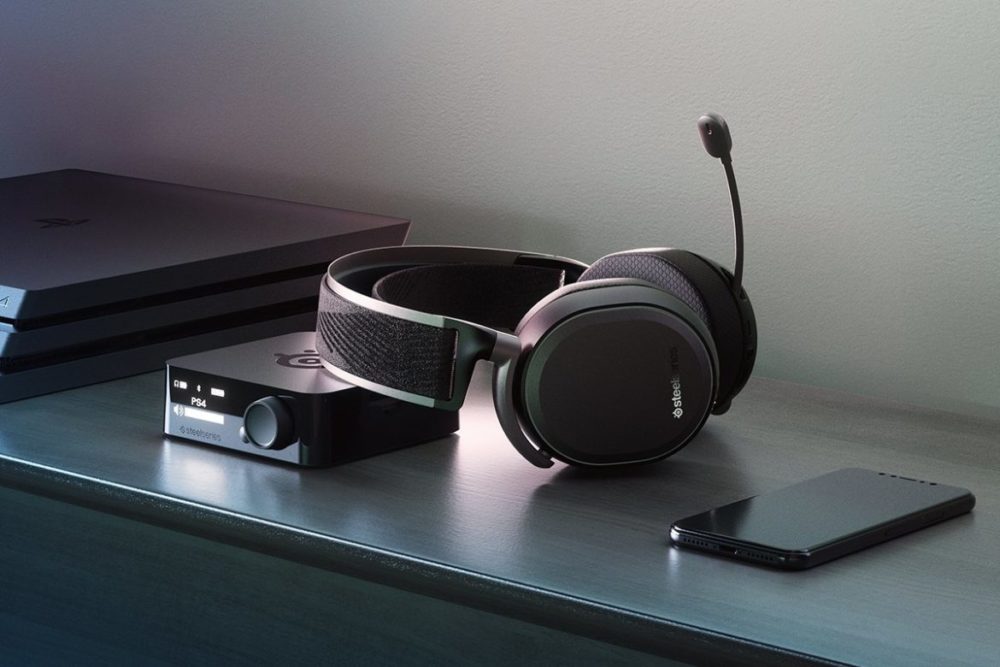 Wireless freedom – with accessories
The heart of Arctis Pro Wireless is the DAC, which in this case is also the wireless transmitter. The front is adorned with a clear OLED display, which also indicates battery charge and the box has built-in functions for everything, including EQ, mixing and so on, so you can make your choices completely without software. But for wireless, a lot of cables are required to be connected. First, connect the box itself to your PC or PS4 via a USB cable – the transmitter has a small compartment to be able to charge the extra battery, which is included with your headphones (so that you never get more than a few seconds interruption while changing). But for it to work, you must also connect the DAC to the electrical outlet, which you do via another cable that must be inserted into any USB charger (that charger is not included). To get surround sound and chat mix on PS4, you need to connect your transmitter via an optical toslink cable. This archaic system is a limitation in the Playstation's technical set itself, but it's starting to feel crazy mossy with 20 year old solutions that involve obvious limitations in supported audio formats (for example, you can not get Atmos and such innovations via optical connection). We're so ready for next-gen and Playstation 5 in just over a month (SteelSeries is releasing lures to that format as well, something we'll be back to)!
One question that has come up from your readers is whether you can get Hi-Res Audio (High Resolution Audio) also wirelessly (something that wired Arctis Pro thus supports). The answer is in short, no – because Arctis Pro Wireless transmits via 2.4 GHz and via it a maximum 48 kHz sampling rate is supported. But the sound is still sent lossless, so basically you get the best, most uncompressed sound you can get wirelessly. But you who want to squeeze out every little bit of quality should invest in the wired version (which then must be connected via the DAC, as an external sound card, not directly in the hand control).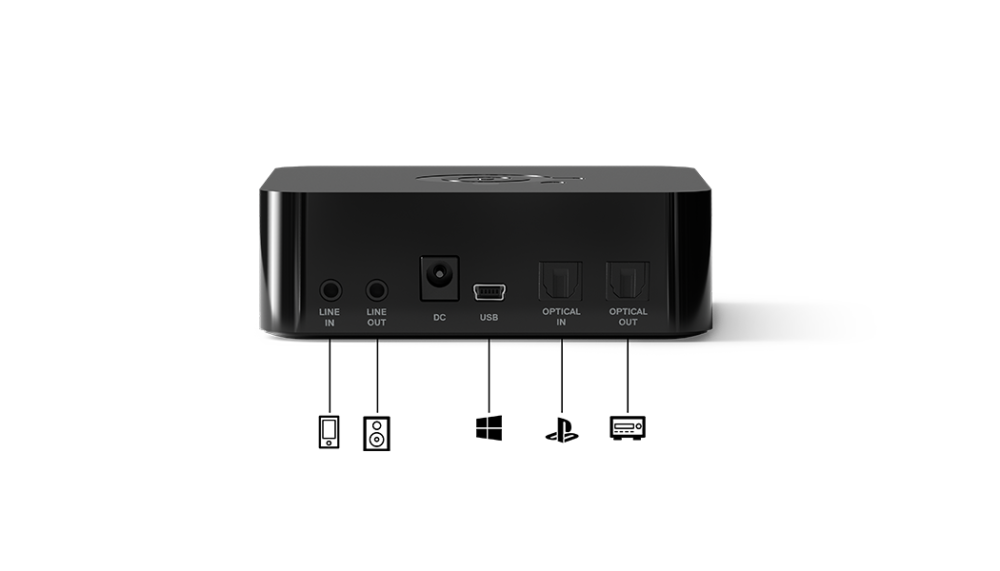 Otherwise you get all the other cables you need, a short and concise manual and a detachable puff protection for the microphone. If you had only sent with a small USB charger, this package would have been completely perfect. But even without a USB charger (which everyone seems to have one over from an old phone or tablet?) It is still one of the best we have seen so far.
Design
Arctis Pro Wireless follows in the footsteps of the SteelSeries Arctis series. This mainly means plastic, with comfortable ski straps on the head á la Arctis 7 but at the same time a little better comfort in the ear cushions and a slightly firmer fit than Arctis 5 and 7, which tended to become a little slack in shape over time. The right cover of the Pro Wireless attaches the outer cover with a magnet, so you can easily change the rechargeable battery between sessions (two rechargeable batteries are included). The headphones are charged either via cable (micro-USB) or the extra battery can be kept charged in the DAC transmitter. If you prefer this or to charge in a doll when you have finished playing, á la Astro A50, is of course a matter of taste. But maybe the doll feels a little more "natural" to hang the headphones on after the game session, than to find a cable to put the headphones in. At the same time you have an extra battery here and the battery life is set to 10 hours per battery, 20 in total, which is a little less on a single charge than the Astro A50 (15 hours) but five hours more in total, with replacement. Nothing that will affect an average player who drives for 10 hours per session.
Arctis Pro Wireless is available in white and black and feels, despite the plastic, stylish and stylish – in our book, nicer than the A50, which feels a little too big and clumsy. However, detail and the building material in the A50 are more luxurious. The comfort we would also say is slightly better here at really long gaming sessions (over three hours) even if it is individual on the ears and quite a marginal difference.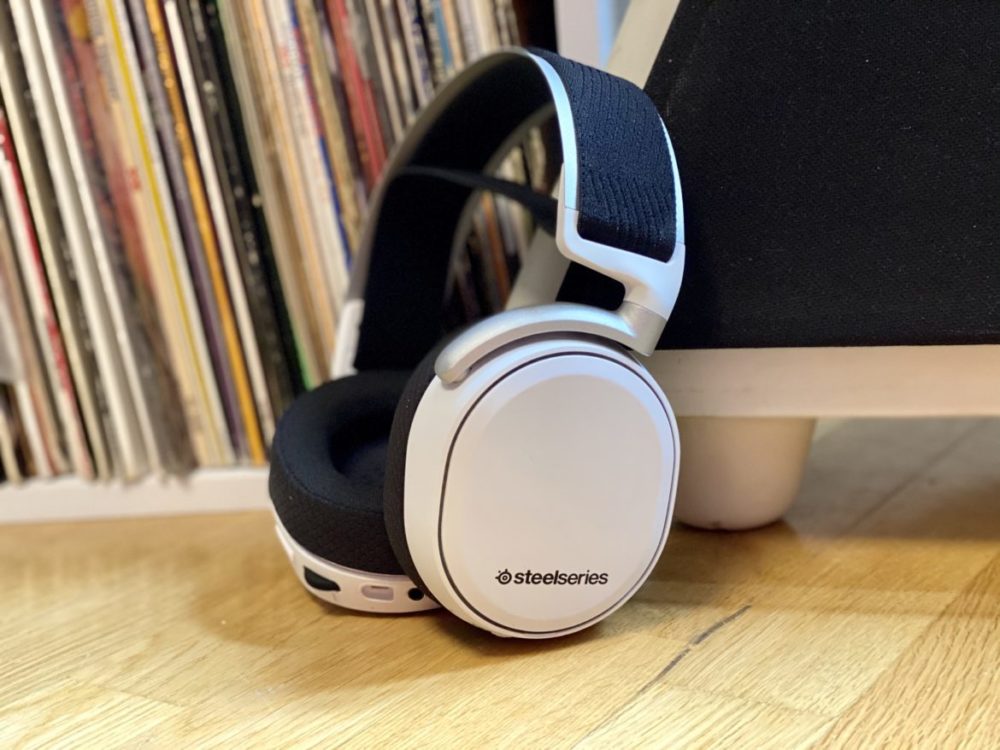 The technology in Arctis Wireless Pro
The headphones run on both 2.4Ghz signal, which gives the lowest latency and also Bluetooth (you switch with the push of a button) to work with type … well, everything you can think of. The 2.4Ghz transmitter only works with PS4 and PC, but otherwise you have Bluetooth for, for example, tablets and mobiles and – in the worst case – 3.5mm analog cable to the rest.
The elements are 40mm neodymium, as is customary in this niche of gaming headphones, and they are specified at 10-40,000 Hz, 102 dB SPL sensitivity and 32 Ohm. The frequency range in headphones and speakers is a widely debated concept, an ordinary human ear hears only a small part of it (20-20,000 Hz when we are at our peak as children, hearing quickly gets worse with age). But there is a "school" that says that elements created for a wider frequency range also sound better because they are of higher quality, have further range and sensitivity (even if we can not hear this range in practice, so can can measure it in for example lab). And there may be something in it, an oversized car engine with extreme horsepower will feel more alert and fun to drive, even if you may never be able or want to push it to the max.
Interesting in this context is that SteelSeries chooses to almost double the theoretical frequency against the Astro A50 (which runs standard 20-20,000 Hz) but at the same time maintain the lower impedance (32 Ohm against the competitor's 48). Lower impedance makes the headphones more easy to operate and compatible with devices that have low output power (mobiles, etc.) and the choice is logical considering the Bluetooth support. Higher impedance, however, means that you can theoretically get better sound. so if you connect the Astro A50 to a solid amplifier or DAC that can drive them to the maximum, this can be an open race. So here's a balance for music lovers, but at the same time nothing that will make a big practical difference for gamers who drive wireless.
The microphone is the usual one at Arctis, an extendable story that glows red when it is switched off (includes, as I said, a puff cover for Pro). Bi-directional noise reduction gives a good result in use for online gaming, without being something that directly replaces a dedicated microphone.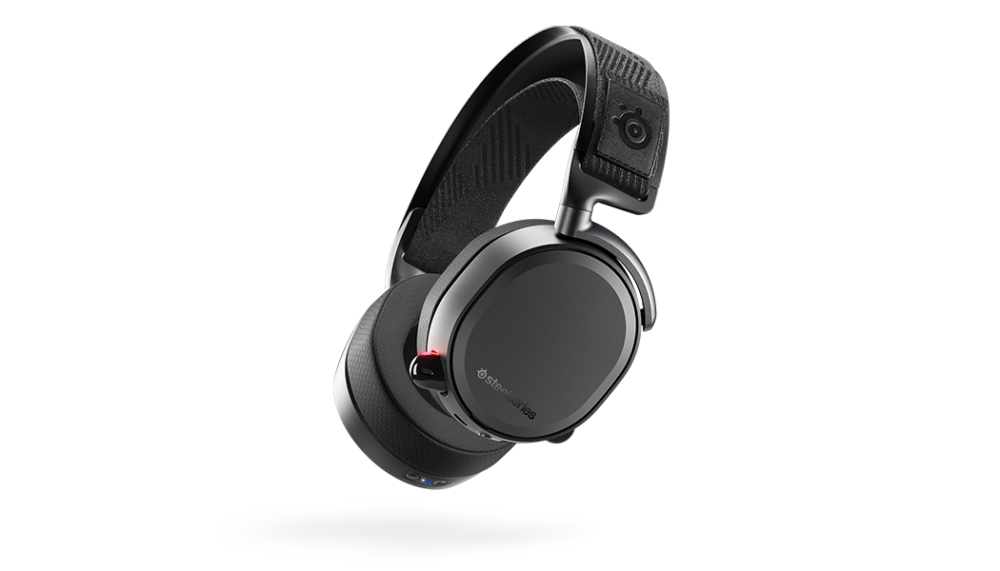 So sounds Arctis Wireless Pro
The sound in the Arctis Wireless Pro must be described as lively, open and light. The base is good, but not overly pronounced and most of all we liked the "space" which was painted in both games and music. Call of Duty: Warzone, which like many games in the series has brilliant surround sound, sounded both exciting and concise and we perceived the enemies' placement well on PS4. The PC has support for the virtual surround sound DTS Headphone: X 2.0 which takes everything one step further – if you can find dedicated audio tracks that support it (Windows Spatial Audio games should work well, for example Gears 5, Forza Horizon 4 and Ori and the Will of the Wisps).
On the music front, Arctis Pro Wireless really did not disappoint us. The reference list was played through without any problems and although Pro Wireless may not have played any genre or song best, on the other hand it was not something for which it was directly unsuitable. Eva Cassidy's cover of the Sting classic Fields of Gold was soft and clean and Alan Walker's Faded sounded swinging, albeit perhaps a little hollow in the lowest register. These are lures that reward clarity and purity over heavy bass, so your preferences will control a lot of how you perceive them.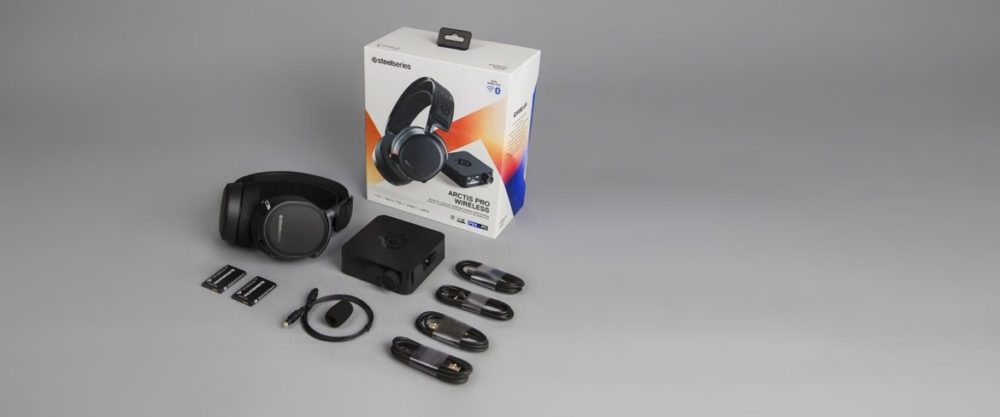 Summation
With a price tag of around SEK 3,500, the SteelSeries Arctis Pro Wireless is certainly not one of the cheapest gaming headsets on the market. On the other hand, they are one of the most versatile and everything about them exudes quality. Like the Astro A50 (which happens to be at exactly the same price level), these are aimed at players who want the best possible wireless sound, build quality and comfort in the same package and where the price is secondary. Arctis Pro Wireless is more comfortable, with slightly better ventilation than its rival, but at the same time the differences are very small. We prefer the Astro A50's charging station and 15 hours of battery life instead of several batteries of 10 hours each, but again – a marginal difference that does not seem to affect most normal users. The sound profile differs between the two – Arctis Pro Wireless has a more open and slightly cleaner sound, while the Astro A50 creates more heat and a slightly fuller bass without the same purity. Both sound very good, so the choice comes down to what type of sound you prefer, really (what is "good sound" for you?).
As a whole, the Arctis Pro Wireless is a versatile and well-thought-out headphone, for gamers who want and can treat themselves to the very best. At the same time, this is a high-end product for those who want to get the maximum out and do not count the kroner, from a price / performance point of view, this is more than twice as expensive as the Arctis 7 and at the same time does not sound twice as good. But if you want to be on top, it is a clear choice and another feather in the cap for the Danes at SteelSeries. New reference in the high-end segment on PS4!
Fancy a pair of Steelseries Arctis Pro Wireless? Buy here at the best price and support at the same time senses, at no extra cost to you.