In addition to the technology and build quality of the headphone itself, it is also crucial which codec the (wireless) headphone supports. Codec is, simply put, the software that encodes the digital Bluetooth power and makes it analog, so that our ears can perceive the sound. SBC (Low-complexity subband codec) is – as the name suggests – the most basic, which has been with us the longest and also sounds the least advanced. This codec must be present in all headphones and is, on paper, the least high-performance (then a well-built headphone with "only" SBC may sound better than a less well-built one with more advanced codecs). Qualcomm's aptX gave us Bluetooth a boost a few years ago and nowadays it is aptX HD and Sony LDAC that are considered to have the very best rendering. But few headphones – and even fewer devices, apart from modern Android headphones – support these formats. Creative BT-W3 solves one of our bottlenecks.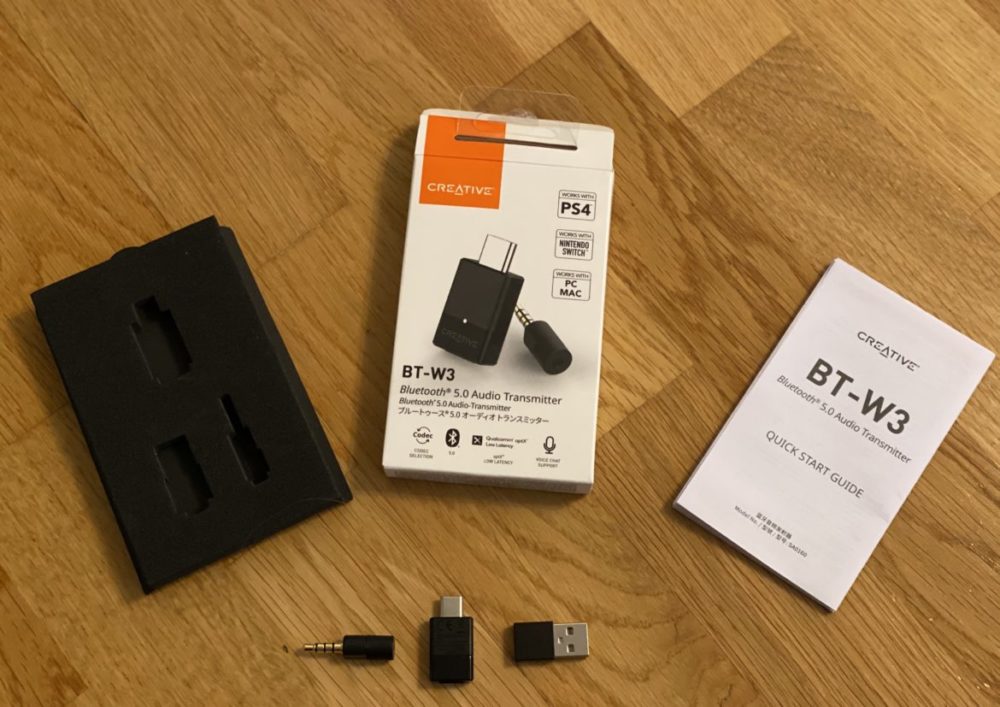 aptX HD and aptX LL – a crash course
The Creative BT-W3 is a small USB dongle that you plug into the device that will transmit the audio and that allows you to choose between four modes: SBC (which everything supports, but is unnecessary because it is in everything), aptX, aptX HD and aptX LL – which stands for Low Latency, a faster game mode that solves many synchronization problems with audio in videos. No support for Sony's LDAC unfortunately and the crux is that your headphone must also support some or all of these aptX formats – you will not get better sound in any wireless headphone.
Bluetooth (even though we are in generation 5 today) is an old and crowded streaming format. Where bandwidth is limited, you must compress efficiently to get the highest possible quality of the smallest possible data, but also have hardware that can encode as quickly and efficiently as possible (compare streaming video and music). aptX improved this process (but requires a license from the manufacturer Qualcomm), where the basic mode provides 16-bit / 44.1kHz with a compression of 4: 1 and a maximum of 352kpbs. aptX HD, which is called "CD-like quality". aptX HD increases the input to 24-bit / 48kHz sound with a "softer" compression 4: 1 to a maximum of 576kpbs. aptX LL sacrifices a bit of quality for faster decoding and can handle in practice the same quality as aptX (16bit / 44.1kHZ) but always prioritizes speed, which can be crucial for games and movies (on music latency does not matter because nothing needs to sync with any image ).
In short: 1) aptX is better than SBC, 2) aptX HD is most important for audio / music lovers who do not care about lagg and 3) aptX LL is aimed at gamers and fans of streaming video, on the go, which bothers lip sync (see video demonstration below).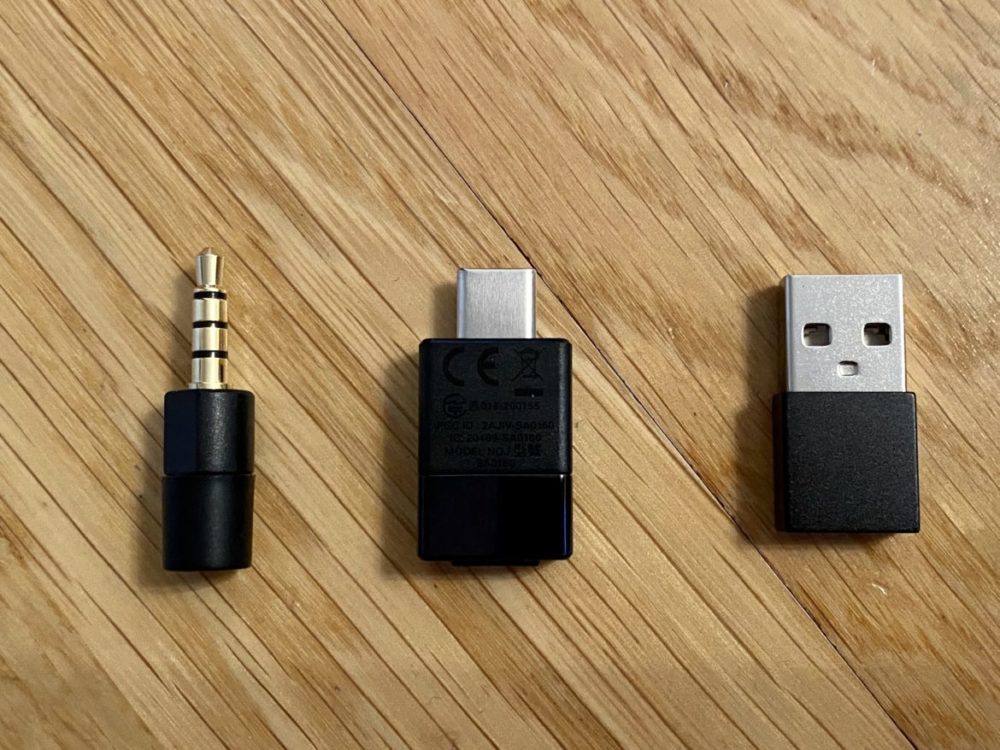 It is difficult to find a headset that supports both aptX HD and aptX LL today. The Panasonic RP-HD605 is one of the best and most versatile mid-range headphones on the market that we have tested in our headphone archive, but it only supports aptX HD (each aptX format requires its own license and dedicated support …), but not LL . The newly released Sennheiser Momentum True Wireless 3 supports aptX LL, but on the other hand not aptX HD (full test of the Sennheiser headphones will be coming soon) – for the versatility of this test we will use them both as references.
Creative BT-W3 supports PS4, Nintendo Switch, PC and Mac – not Xbox One and no phones (iPhone does not have USB-C and Android already has all codecs built in). The dongle is basically equipped with USB-C, and a USB-A adapter for the PS4 and you who have a computer with "old" USB ports of type A.
The package also includes a 3.5 "microphone, for those who have wireless headphones without a mic (quite a few who have that problem). The headphone pairs with the transmitter itself, so you do not need to pair it every time you move the transmitter to a another console, for example – smart, it's a bit messy with the wireless microphone connection, Switch's Bluetooth does not support audio in one direction at the same time, so it needs its own firmware and the rest of the formats one the other (if you even want to use wireless microphone.) This test focuses on the sound quality you would expect in the headphones with the dongle connected.

You can easily get started by plugging the USB stick into the machine you want to send from and putting your headphones in pairing mode. Then click through the sound modes, indicated by the light on the transmitter (in brackets):
SBC (blue) – easiest codec to fall back on. Sounds perfectly OK, but also what you get on "regular" Bluetooth. By far the most latency ("lag") of all formats, occasionally noticeable – the sound can come a few seconds after the image in very heavy and fast games (Doom Eternal for example).
aptX (green) – some improvement, especially in the base. A tighter and richer sound, but no audible giant lift from SBC.
aptX HD (yellow) – now we start talking better quality. The sound image is richer and warmer and also the resolution feels higher (as it should be).
aptX LL (white) – Low latency is perhaps the most fun lift, if you have the right headphone that supports it (basically 2020 models, some single high end from 2019). When you sacrifice sound processing for speed (compare Game Mode on an OLED) the sound is not quite as rich as aptX HD, but instead you get a basically immediate signal (32-40ms delay), perceived by human ears as much as tight as that connect headphones with wire. Impressive.
Note: Qualcomm also has something called aptX Adaptive and seems to be a kind of AI's holy grail. It automatically optimizes aptX mode according to the sound sent and received. The technology is relatively new, but will probably become a dynamic standard in the future, similar to intelligent HDR. But as usual, it will require both transmitters and receivers to support it.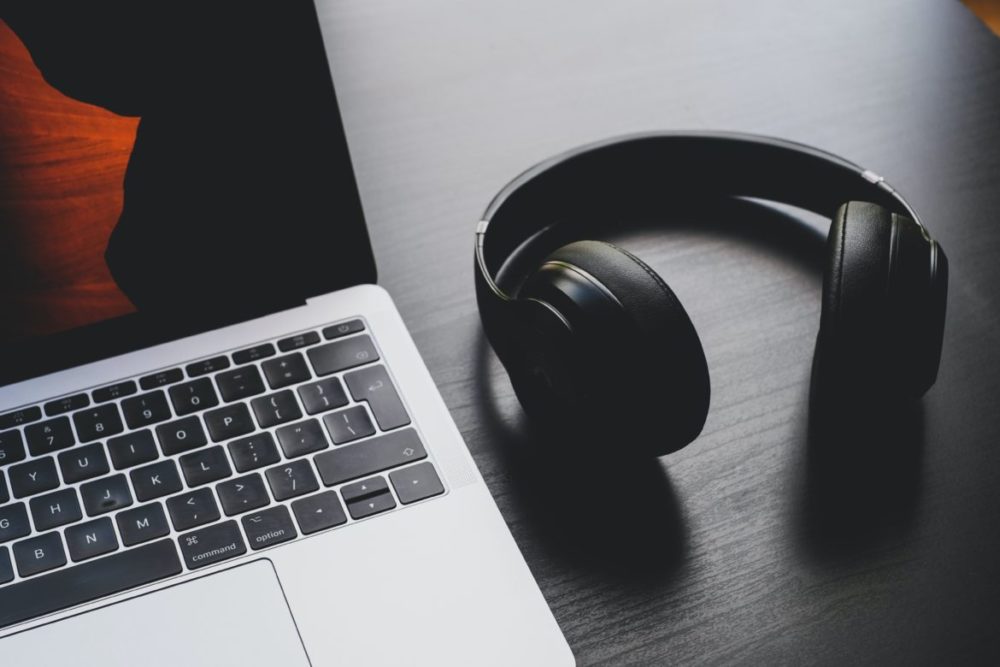 The benefit of the Creative BT-W3 is in the sound quality, in reality it is silly to talk about the advantage of "wireless" in not having to use a 20 cm cord, as most headphones are connected with cable directly in the controller on PS4 or Xbox One and use you Switch portable, it's the same thing there. But this can raise the sound quality slightly and also reduce the wireless latency – if you have the right headphones. This if is quite large at the time of writing, but is likely to become an ever-decreasing problem as more lures are released with aptX LL. Sennheiser Momentum Wireless 3 both sounds good, so it is recommended if the lowest latency is your priority (even if aptX HD sounds a bit better).
For almost SEK 600, which the Creative BT-W3 costs, it may not be a must for most normal users. The increase in sound quality will not be as noticeable as with their Play! 3 sound card. But for those of you who care about the best (and tightest) wireless sound and have a headphone that is compatible, it is not a stupid investment at all.