American Plantronics has had a number of products that have impressed us in recent years. Gone is the feeling of plastic office and computer accessories and instead comes robust, extremely well-packaged and often well-performing products with a bit of an Apple feeling ("Designed in Santa Cruz, California", just like that …). Plantronics BackBeat GO 3 is thus the in-ear headphones that replace its predecessor BackBeat GO 2 (logically enough). But with a price tag of almost double that, we have to investigate whether the difference in sound is as great as in price.
If the truth is to be told, we got to quickly test BackBeat GO 3 already in the spring of 2016. Unfortunately, it was not an impressive meeting. After long pitches and presentations from the manufacturer about individual 3D modeling and fantastic bass, the headphones were surprisingly poor in bass and really did not sound better than our fav budget headphones from Asia, which cost a little under SEK 200. Something was obviously wrong with the manufacturing process and the headphones were pulled back, so we never wrote about them then. And luckily it was, because the difference in the product released this year (2017) is really big. So remember, if you see a review of these headphones from last year, it is the recalled headphones that have been reviewed there.
As usual, the BackBeat GO 3 is nicely and luxuriously packaged. In addition to a nice little bag to carry the headphones in, it also holds a built-in battery that can be charged via the included USB mini-cord and act as a backup battery on the go. As for the hardware itself, we are offered wireless in-ear headphones with clever earphones in soft silicone that are equipped with a click-on part, which makes the change between the sizes much smoother than holding and prying and pulling over the rubber on the spike as going into the ear. It is important that you choose the biggest plop that you can have in your ear and still feel comfortable, as it gives the best stability (during training, for example, where the headphones like to jump out), as well as the most bass. The headphones are P2i-treated, which means that they can handle smaller amounts of moisture, such as sweat from exercise. But you should not try to swim with them … Something we immediately lack for lurks in this price range and with an obviously high level of ambition is aptX, which supports higher resolution for streamed music via Bluetooth. Most more expensive Android phones have aptX, something that the iPhone lacks (today) and the lift is really noticeable in sound quality.
The battery life is around 6-8 hours, a bit depending on how loud you listen and the headphones charge relatively quickly via USB, or via the bag (which can handle about two full charges when the battery is fully charged). The headphones have a pair of "wings" that will help keep them in place in the ear. Now all billions of pairs of ears are different, but several in the editorial staff thought that there should have been different models and sizes of the wings, as far from everyone felt that the headphones were completely stable when moving.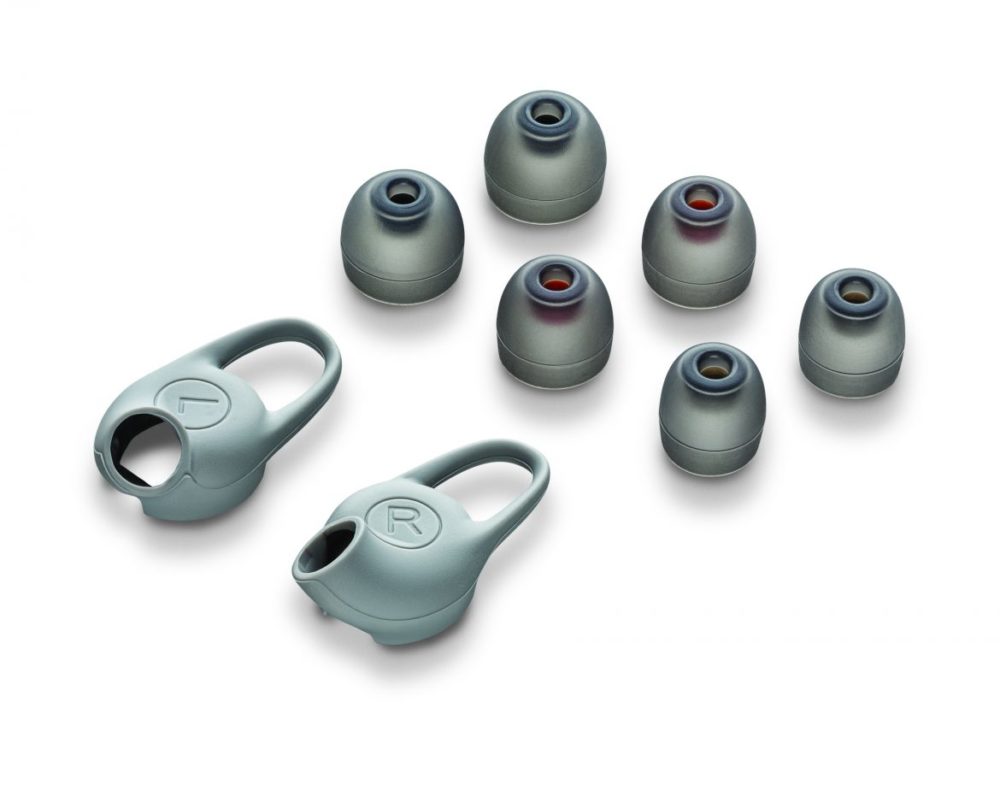 How do the headphones sound then? Yes, they sound nice! The sound image feels relatively warm and well-balanced; here there is both a fairly high definition of treble as well as bass that feels generous, albeit not class-leading. One wonders how much aptX had lifted it all further? In any case, it is clear that BackBeat GO 3 is among the better in-ear headphones we have used, so far. They run (as expected) on our old budget reference headphones from Aukey (the SEK 200 headphones from Asia we talked about, which have been surprisingly awesome for the price!). At the same time, the BackBeat GO 3 is not a real budget headset. At the time of writing, they go for between SEK 900-1,300, something that can thus be seen as at least the upper part of the middle price segment. And for that price, you basically get a pair of BackBeat Pro that are real party headphones, albeit with over-ear covers. So the choice is about functionality and portability versus the best sound. If you prefer the discretion and portability that in-ear offers, or must have it for training, for example, BackBeat GO 3 is really not a bad choice. But if the best sound is your focus, there are several on-ear models in a similar price range that on the whole sound better.