It is worth repeating that you who put sound quality first should not invest in true wireless. The technology rewards "stylish" and flexible in-ear shells, completely without cables, at the cost of losing bandwidth to the interconnection between the shells. Apple AirPods are still the dominant handset in this segment – and even though the Pro model is starting to approach some quality – they cost an awful lot of money in relation to what they perform and you can get an over-ear handset that sounds several times better for less money (why not Audio-Technica M50xBT, for example?).
Today's consideration comes from Creative Labs, the old sound card manufacturers who have switched to a versatile sound company and who have impressed with products from their range. Creative Outlier Gold is the company's first true wireless handset, which will also support their own sound enhancement format, Super X-Fi (read more about the system in our test of SFXI Air). However, this is a truth with a major modification to say the least, as most people will not be able to benefit from it (or will).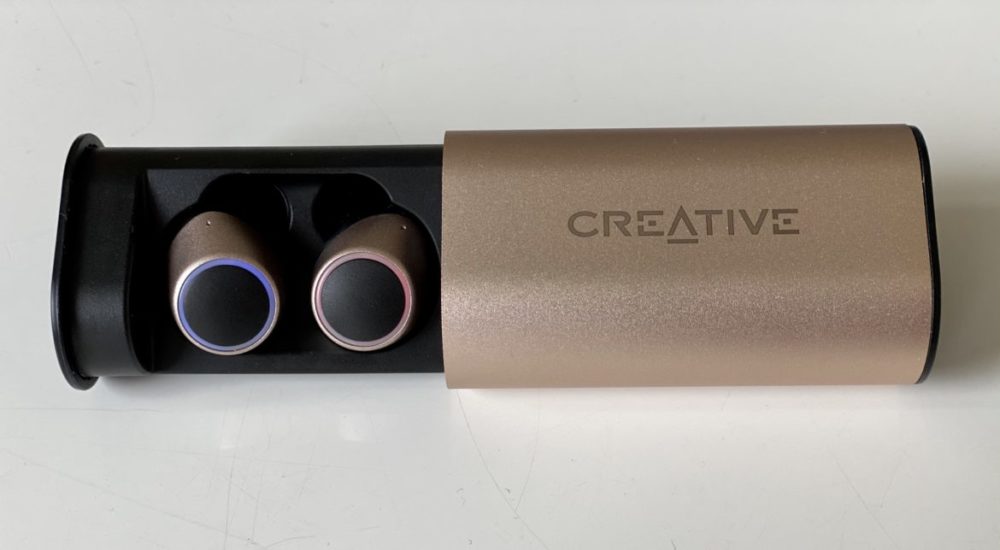 The Look & The Tech
Let's start with the first impression – Creative Outlier Gold is delicious. Perhaps the nicest tw-earphones so far. They come in a kind of gold-metallic case, which is nice but not flashy and the shape is clean and symmetrical and exudes more quality than all plastic tw-cases you see at most other manufacturers. The case charges the headphones, of course, and charges itself via USB-C, which is expected in 2020.
The technology is not wrong anywhere – the battery life is set to 14 hours per charge, which we would say is consistent with our experience and the case can recharge a total of just over twice more, so 39 hours you can charge if everything is charged to max. Should cover most needs. Outlier Gold supports the latest Bluetooth 5.0, whose power saving contributes to the generous battery life but also provides dual audio (for devices that support it). In short, you can send two Bluetooth streams with the same or different content to two different devices at the same time. So theoretically you can stream audio from a phone to two pairs of bluetooth headphones at once, a highly anticipated feature for couples who want to watch movies on the go for example.
Furthermore, there is IP5 rating to cope with moisture (sweat) and support for both Apple's AAC and Qualcomm's aptX, which we prefer but require something other than Apple gadgets (a Xiaomi Note 10 for example, which also has Bluetooth 5.0).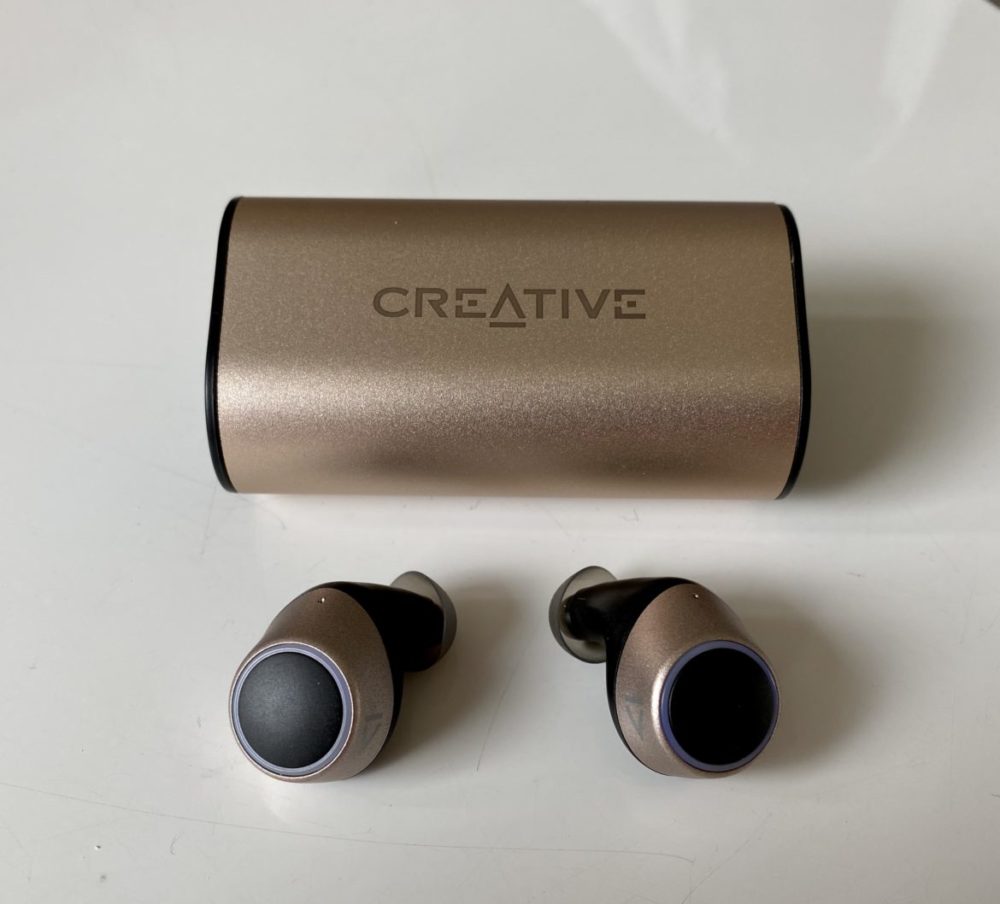 Outlier Gold – Sound quality
Outlier Gold sounds perfectly OK straight out of the box, but if you choose the largest earplugs you can wear comfortably and connect them to an aptX-compatible audio source, which plays high definition (Tidal) – they sound really good. The base is warm and relatively full-bodied, impressively large for the format indeed. Middle registers could be a bit more sophisticated, but it is where it should be and most of the genres we challenged them with were handled nicely. Finally a sensible true wireless option for us who like good sound!
How much better will it be with the SXFI technology then (the one that calculates the profile according to your face and ear shape)? Yes, it gets better – but only on locally saved files, not on any kind of streamed service. And that's … stupid, if we're to be diplomatic. How many people today have their music collection in the form of thousands of mp3s in one phone, when you can get all the world's music in Spotify or Tidal (usually in better quality as well)? Movie services – YouTube, Netflix, Amazon Prime Video – and similar services also do not benefit from SXFI, but the only thing you can do is play your locally saved songs in Creative's own audio program (something the manufacturer states, albeit very unclear on the packaging, that this is SFXI via "software" – but the whole thing is confusing to say the least). The SFXI app also has an equalizer (EQ), which is really good and can boost music genres to taste. But again – the area of use is so narrow that very, very few will have any real benefit from it. Sin.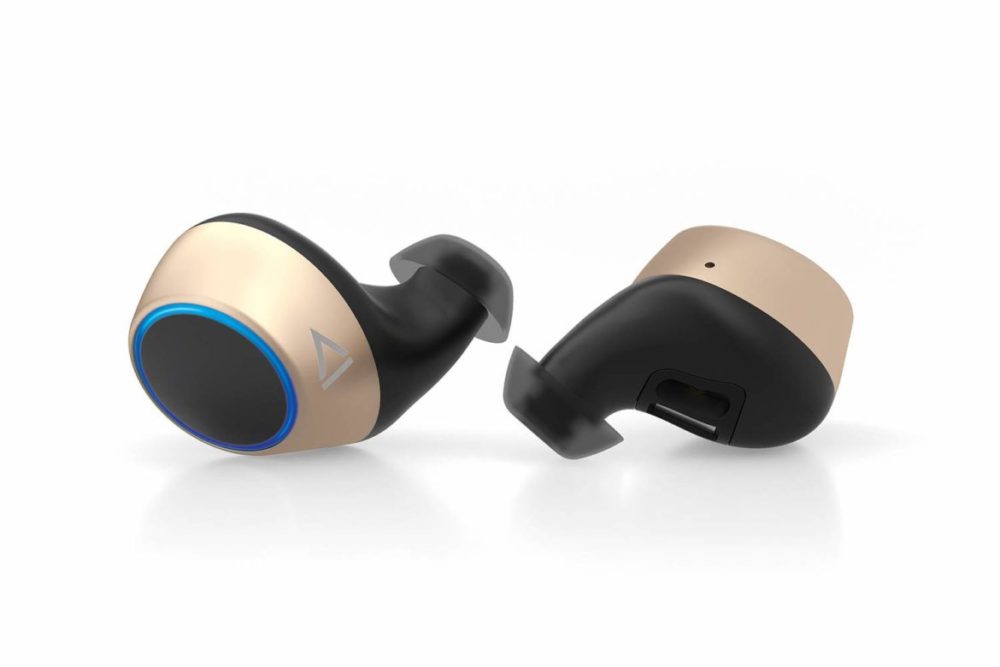 Outlier Gold Review
True to its habit, Creative gives us a pair of very competent headphones, we would say that these are right now our favorites in terms of sound quality and appearance within True Wireless. They are highlighted a lot by a good dance partner (aptX) and a decent source (preferably Tidal), but also sound good on AAC with Spotify. SXFI was interesting and made a difference, but unfortunately it is almost useless in its current state (no one runs MP3s from the phone anymore, for many years back). So it has to wait until the next model?
With an attractive price tag close to the thousand dollar mark, cruel battery life on top of the sound quality, there is no reason not to warmly recommend Creative Outlier Gold. Had the promised SXFI function been useful, the gold would probably have been given. Now they are not really a must, but for you who are looking for true wireless headphones that sound good, or simply new headphones for the price range, you should definitely take a closer look at Outlier Gold.