Video review and unboxing of the Plantronics RIG 800LX can be seen in the video above.
Xbox One and Windows (10) share operating systems and therefore most Microsoft game titles and accessories. The wireless headphones from Plantronics with the model designation RIG 800LX give us e-sports-scented, super-light and comfortable headphones without tangled cables, as well as a mic that sounds great. It all just works without the slightest hassle on Xbox One, which is the format we tried them on. Plug the wireless transmitter into one of the Xbox's USB ports, turn on the headphones, and start playing.
Two things directly stand out positively with the RIG 800LX : they are feather-light to wear and the covers are comfortable and airy: you avoid the ear sweat that so eagerly wants to be reminded of many on-ear headphones after a little over half an hour of use. The second is that the battery life is phenomenal. Plantronics states 24 hours on a single charge, but it is humble. We have been running the headphones for about 30-40 hours before we needed to charge, which is clearly impressive. Maybe it's because the headphones do not play deafeningly loud that they manage so long. The volume can be turned on fairly high in volume, but if you are someone who loves to turn the knob to 11 so your skull shakes, this is not the headphones for you.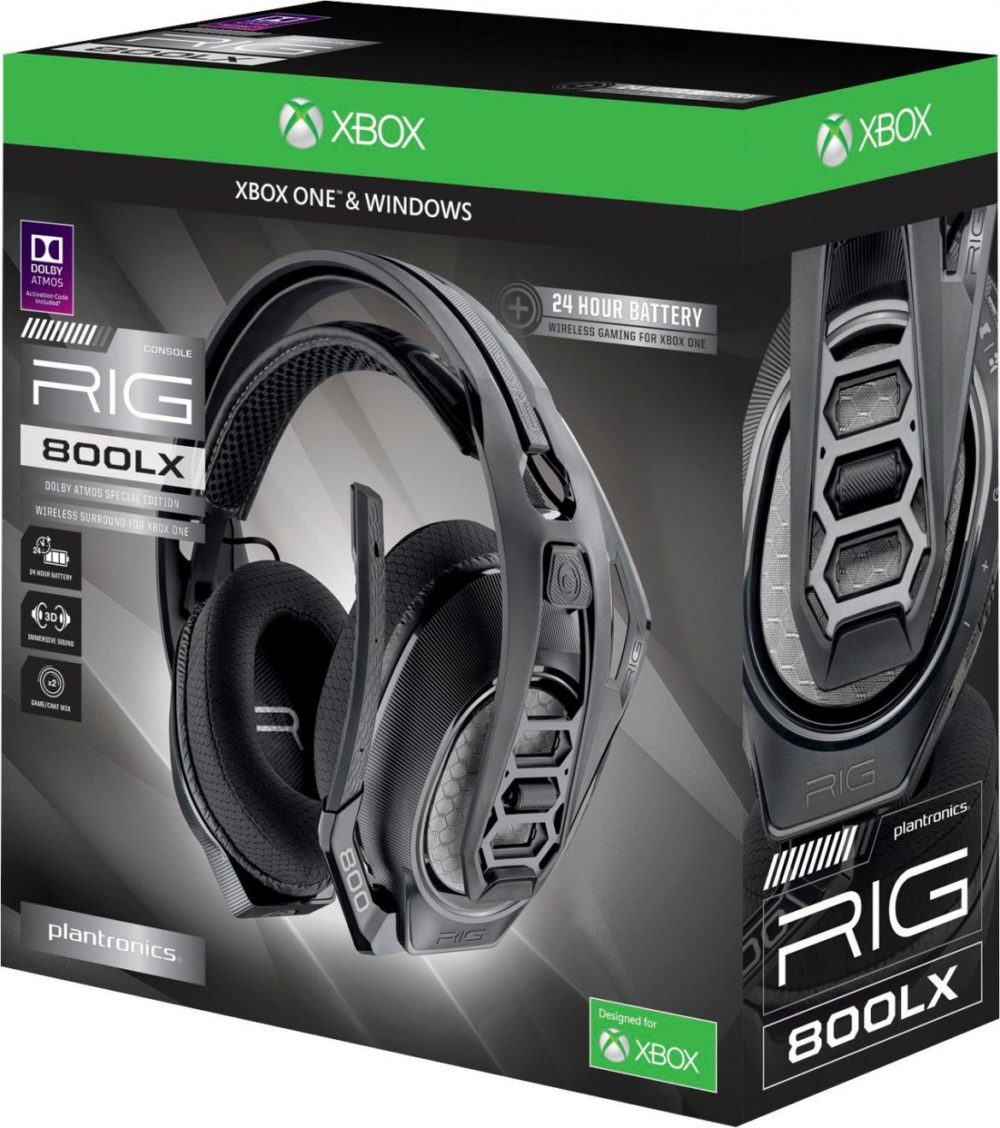 Sound-wise, the headphones also impress properly. They support Dolby Atmos, an audio format that is object-oriented, not channel-divided, so the feeling of watching a movie or playing a game with Atmos is impressively recreated. Sure, the experience does not replace 40 actual speakers in a dedicated Atmos cinema, but it sounds good, distinct and crunchy and with generous bass. Even games without Atmos support are reproduced with great gaming joy. The package also includes a code for Dolby Atmos license on Xbox One / PC, so if you have not already bought one, you will thus save SEK 150.
On the downside, two things stand out: the headphones are not very beautiful to look at. Yes, RIG 800LX are gaming headphones and they only work wirelessly for the home, but thin plastic frames that protrude around the skull are really not beautiful (but practical, as it is super easy to wear for longer periods). Disadvantage two is the price; you certainly get what you pay for and have to open your wallet for that extra, but since the headphones are at about SEK 2,000, it will still be a considerable investment. A price closer to the American, of about SEK 1,500, would have been spotless even SEK 500 more is not a deal breaker.
Summary : The Plantronics RIG 800LX is clearly our new favorite for the Xbox One. They are wireless, sound awesome, are super comfortable to carry and have great battery life (you charge the built-in battery via USB). Had they only been as good-looking as little brother RIG 600LX (which are wired) and five hundred cheaper, top marks would have been given. Now it will instead be a really warm recommendation.