Note: This test has been updated with new and in some cases corrected info.
The manufacturer ADATA may mainly be connected to hard drives, memories and graphics cards. But the Taiwanese giant is investing aggressively in the Nordic region and is launching its first and content impressive ljudkit consisting of gaminghörluren XPG EMIX H30 and DAC-amplifier SOLOX F30 (this is perhaps the memory giant Kingston's footsteps, who released their acclaimed HyperX Cloud -lurar as has been a great success?) For PC gamers and to some extent PS4 owners, this is an interesting package for the price, however, perhaps not as spotless for Mac and Xbox One owners.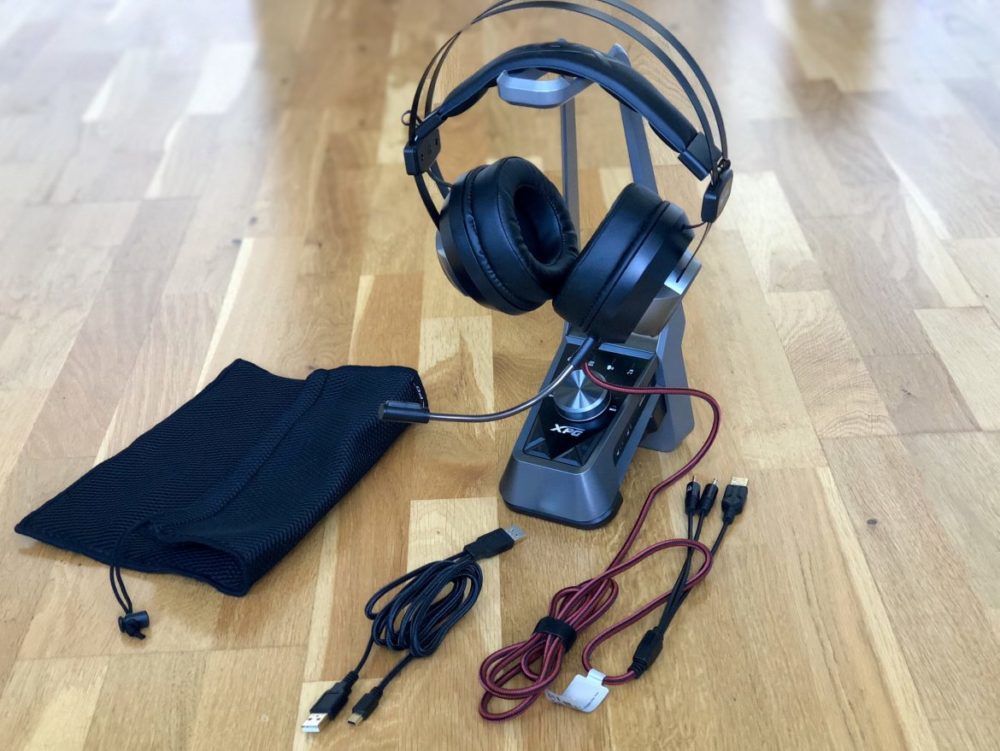 The box with all the contents is a solid piece. Emix H30 are threaded over-ear headphones, which sit comfortably on the head and weigh about 400 grams – which is perfectly OK in the genre – while offering slightly larger, dynamic speaker elements (53mm) with maintained impedance (32 Ohm) (for more insight into the technology behind headphones, please read senses headphone school). The sound is sent through a 2.4m long, twisted quality cable that opens into three ends – two 3.5mm RCA for the headphone and microphone function and a USB 2.0 to be connected to the DAC (Solox F30). In addition, there is a nice mic that you can bend at will and that you can easily click in and out of the left cover, as well as a carrying bag. The DAC (which is only an amplifier and not a combined sound card, such as Soundblaster Play! 3) is connected via a Y-shared USB 2.0 cable (for simultaneous audio and power transmission) and this is a solution that could have been done clearly smoother with the modern USB-C connection instead. Solox F30 provides virtual 7.1 sound (on PC) and also EQ modes for movies, games, speech and music (though no mode that is neutral or turns off the EQ) as well as a mute button and volume knob. The whole thing is nice and clear and everything can be mounted in a hanging rack, which is included and is as compact as a rack can be – but as a whole, this is not a gaming set you simply pack down and carry with you in your bag.
The design feels clean and well thought out and we especially want to pay tribute to the simplicity and clarity of the buttons on the DAC. This does not require a manual, but is completely 100% self-explanatory. At the same time, basically everything is made of plastic – good-looking plastic certainly, but still plastic, which as a whole reduces the feeling of luxury. With its price of about SEK 1,800 for testing, this is not unreasonably expensive, but also not among the cheapest alternatives on the market. In this segment, the competition is murderous from larger and more well-known brands such as Plantronics and SteelSeries (which in itself also manufactures most things in plastic). The only metal you find is on the sides (frame) of the headphones and the place itself, which is both nice and feels quite stable.
Generous bass, decent resolution
How does the Emix H30 sound then? Well, actually pretty good. Here is a generous bass, which in the right EQ mode becomes deep but not swaying and a warmth in the sound that feels comfortable to listen to for longer moments in play. For music, these are not our first choice, as the middle register lacks that last sharpness, but it is still approved for the price range (the base sounds too noisy in the music mode on the computer, however, we recommend the speech or movie setting). Virtually 7.1 is only available on PC (it can be activated on Mac, but it is difficult to hear that it actually makes any difference), and since we currently do not monitor PC on senses, it was initially difficult to test all functions fully . With a loan PC from one of our partners, however, we had to run the headphones over a month this summer and the software can be stated to be functional and clear. The DAC enhances the sound quality somewhat and the 7.1 sound becomes virtual, ie a kind of simulation and perhaps made some effect in, for example, FPS games, but in general we think all artificial sound enhancement modes reduce the sound quality; this largely also applies to pre-programmed EQ modes. One problem with the Solox F30 is that the EQ mode cannot be turned off completely, but is always on one of four presets – why? If you just want the pure signal then? Ultimately, of course, it's all about taste and preference, just as some users love to pull up their TV picture controls so the colors look luminous – but completely unnatural. Still, we think you should always have the choice to turn off all lull-lull and "improvements" and drive neutral.
The detachable microphone is, as I said, nice, there is clarity and quite a bit of noise, but on the other hand some recording of environmental noise, which is not a huge problem. However, something that is a big problem is that the microphone is connected to its own 3.5mm connection, which means that it can not be used on Xbox One, since the controller only has a single connection for 3.5mm (and that's where the sound needs to come from). out). The DAC, in turn, lacks an optical input; Xbox One – unlike the PS4 – can not send audio via USB, which is sad news for Microsoft owners who are potential speculators on this package. That a modern headset also needs three connections to function fully does not feel very much like 2018 either (and yet the headphones were released just this year)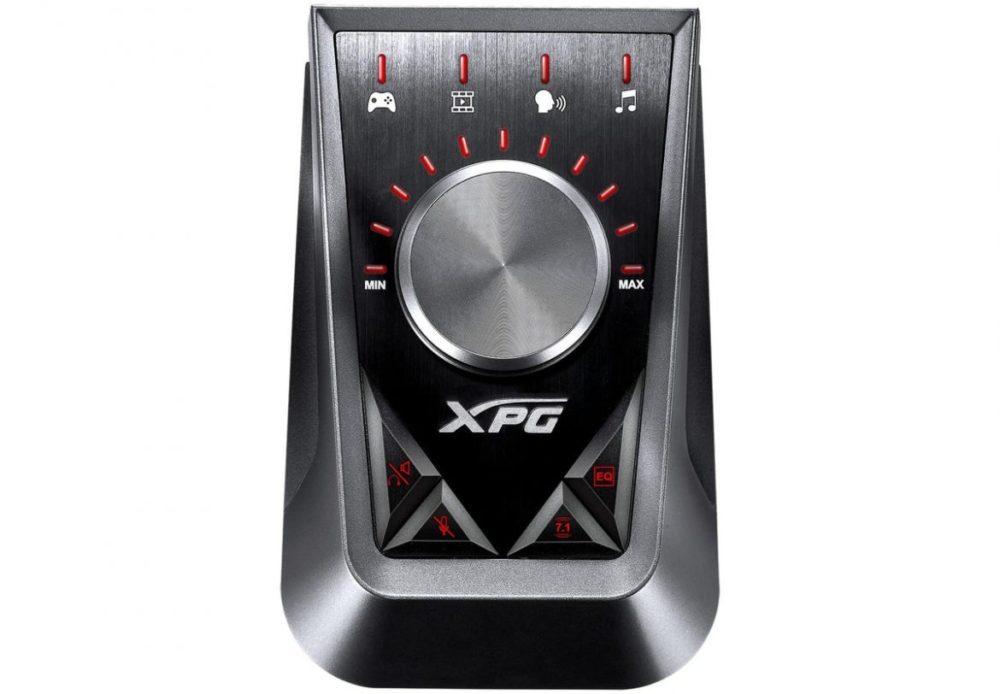 Functionality
PC
PC users are the ones who pull the longest straw (as in 99% of cases) when it comes to functionality on
Emix H30 and Solox F30. There is nice software (Xear) to tweak and set the sound at will, as well as the ability to update the package firmware (built-in software) which can give better results and any sound improvements in the future. 7.1 virtual surround is clear here and is, as I said, just an approximation, but can still give a certain, increased sense of space in FPS games and movie watching.
Mac
Mac comes second in terms of functionality. Here, everything works directly when you plug it into the USB ports, but you lack both the Xear software and the ability to upgrade the firmware in the package (just like many of Creative's speakers). Pressing the 7.1 virtual surround button works and gives a tiny adjustment of the sound image, but it's hard to say that it makes a big difference on or off. The microphone also works fine; for example, it's easy to set the level via the Mac's own interface.
PS4
At first we did not get the package to play with PS4 at all, but after a firmware update on the console itself, it was possible to activate the kit via the system menu (go to Devices – Audio – USB). The DAC takes up two USB ports and therefore can only be plugged into the front of the machine, where there are two ports (unless you buy an external USB hub, but make sure it provides enough power to power devices) . Sound and mic work fine and it is easy to set the level of this via the built-in interface you reach via the PS button. Virtual 7.1 is not supported.
Xbox One
Unlike the PS4, the Xbox One S and X have their two USB ports on the back, but that does not matter, because here it stops. Xbox One (all models) cannot send audio via USB, but requires an optical cable. It does not come with such an optical cable in the package and would not make any difference if it did, as the DAC completely lacks the ability to receive optical audio. How ADATA thought here is a mystery? The manual and their website also provide no clues. Of course, you can only use the headphones for sound from the controller, but then without the mic and the DAC, which counteracts the whole idea of buying the package (you can buy the headset loosely, if it attracts).
Another small blunder in the protocol is that the cushions of the covers sit together with the headset itself, so if you get wear or cracks over time, you can not only change the cushions themselves, but then have to replace the entire headphone – something that feels a little strange when we talk headphones in this price range.
Summation
The Emix H30 + Solox F30 package is a mixed bag that directly depends on the format you intend to use it for. The headphones sit comfortably and sound decent, regardless of format. That you put in a DAC with such clear functionality and a transmitter with a stand to gather everything nicely in is a feather in the cap for ADATA's designers. At the same time, you make strange and a bit outdated choices when you run USB 2.0 and so many cable connections. PC owners get the whole experience and may well be seen as the main target group, even if Mac and PS4 are not far behind. However, Xbox One feels like a missed opportunity and is not currently recommended (if we get an explanation from ADATA, we will update the text, but so far they have not returned with answers to our questions about how it thought about Xbox One compatibility).
The final verdict will then be that this is a decent sound package for PC owners, suitable for Mac and PS4, but currently nothing for Xbox One.